Cotton price rises on renewed buying (Pakistan)
Renewed buying interest helped cotton prices recover part of the recent losses on Saturday as lower prices attracted some spinners who eagerly replenished their stocks.
The positive measures taken in the budget FY17 for the textile sector — including duty-free import of plant and machinery, cut in export refinance rate and extension in drawback of local taxes and levies (DLTL) scheme on incremental increase in exports — induced sentiment, brokers said.
The last couple of week's general lethargy and a wait-and-see approach was no more evident as buyers rushed to replenish their stocks after getting incentives in the proposed budgetary measures, the brokers added.
However, the limited stocks held by ginners at around 100,000 bales and shortage of quality lint restricted trading activity. Report of partial arrivals of new crop phutti (seed cotton) from lower Sindh was a positive development.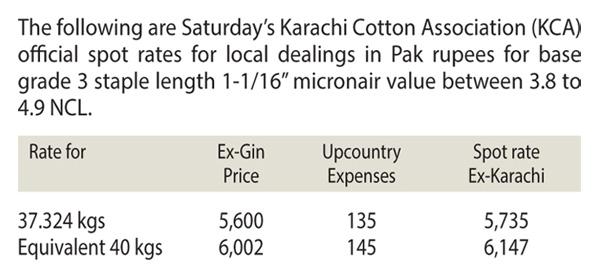 Market sources said that around six ginning mills were expected to partially start operating in Sindh and Punjab this month, but a pick-up in momentum in phutti arrivals could not be possible before the next month.
The KCA raised its spot rates by Rs50, to Rs5,600 a maund. Major deals on the ready counter were: 200 bales from station Ghotki (at Rs5,800 a maund), 400 bales Bahawalpur (Rs4,850), 200 bales Jala­lpur (Rs5,700), 1,400 bales Khanpur (Rs5,800), 500 bales Rahimyar Khan (Rs5,800), 400 bales Sad­iqabad (Rs5,800) and 400 bales Rajanpur (Rs5,800).
Keywords: