Cotton price under pressure (Pakistan)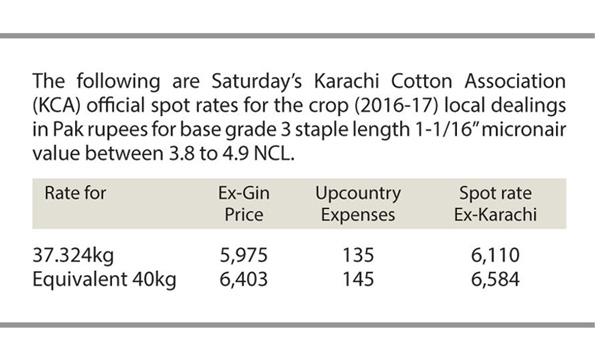 Cotton prices remained under pressure on Saturday in line with global trend. The underlying sentiment also remained easy and outlook uncertain.
Floor brokers said cotton prices moved lower in sympathy with global trend.
Brokers refuted media reports about any slump in cotton imports from India, saying that at this time of season the arrivals of Indian cotton crop have just started and there was no question of entering into any deal at this juncture.
Karachi Cotton Brokers Forum Chairman Naseem Usman told Dawn that even during recent high tension period between the two countries no side has officially stopped trade.
However, he said, India is currently faced with cotton shortage and the arrivals of cotton crop has just started, therefore, a small quantity of cotton on the contrary recently reached India from Pakistan.
Responding to a question, Mr Usman said that last year Pakistani spinners managed to import cotton from India earlier because the Indian Cotton Corporation was holding substantial stocks of cotton from old crop.
On the ready counter, most deals were finalised lower by Rs50 to Rs100 per maund (around 37 kilograms).
The Karachi Cotton Asso­ciation spot rates were also cut by Rs25, to Rs5,975 per maund.
Major deals on the ready counter were: 1,000 bales from Sanghar (Rs5,800 to Rs5,900), 1,400 bales Shahdadpur (Rs5,800 to Rs6,000), 1,400 bales Tando Adam (Rs5,800 to Rs6,000), 1,200 bales Nawabshah (Rs6,050 to Rs6,075), 1,200 bales Rajanpur (Rs6,200), 1,400 bales Layyah (Rs6,200), 1,000 bales Khanewal (Rs6,200) and 600 bales Haroonabad (Rs6,175 to Rs6,200).
Keywords: