Home
>>
Textile News
>> Polyester filament plants encounter bigger pressure to cut output
Polyester filament plants encounter bigger pressure to cut output
2018-09-12 08:57:12 CCFGroup
PTA futures stopped surging and inched down in recent period, and polyester downstream players showed stronger looking-on mindset when uptrend anticipation of upstream market ended and price may decline from high level.

Many downstream plants cried out losses and said they would cut production before, but not many plants really curtailed output, mainly moderately operate based on own status. When feedstock market was rising, some downstream plants relied on earlier purchased feedstock inventory to lower average cost and lock in cost for new orders, further to reduce losses. But some downstream plants tried to lower deficit by hoarding up grey fabric inventory and sell the stocks as time goes on. However, feedstock market is not anticipated to increase further in recent period, so the earlier scheme is not appropriate any more. Under such situation, downstream players start worrying upstream price to decline instead of increase. Once upstream price heads south, the feedstock inventory and finished goods stocks of downstream plants bound to devaluate and losses may appear.

Downstream plants have kept hoarding up feedstock before, resulting into low finished goods inventory in PFY plants, but turned to adopt strong sidelined attitude recently with altering anticipation toward feedstock market, focusing on lowering earlier stocks at hand. PFY plants have apparently perceived that sales ratio in Sep has moved down compared with Aug, with average daily rate around 50% since Sep, and inventory of PFY rapidly mounted. It is learned that the current feedstock inventory of downstream plants is above 10 days on the whole, lower around one week and higher around 20 days. Thus, low sales ratio is supposed to maintain in short term and inventory of PFY is expected to pile up further.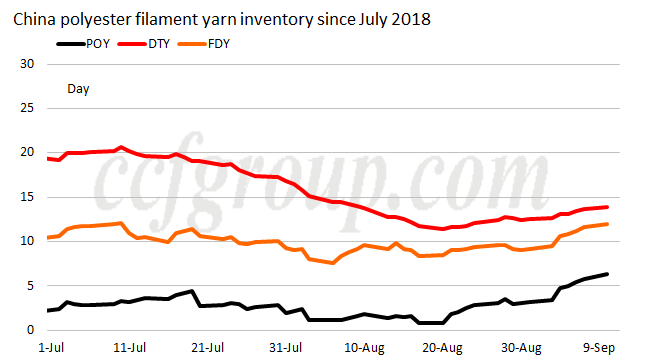 Downstream twisting and weaving plants are anticipated to slash inventory in short run to lower the risk caused by inventory devaluation when price of upstream market faces downward potential. Only when PFY has cash flow loss on large range of products and signs of pressure from its inventory, PFY will start its production reduction. If spot PTA price keeps firm, polymerization feedstock cost bounds to be high, but sales of PFY have been subdued recently and more plants cut price; thus, losses on a large range are of great possibility to emerge if current status sustains. Meanwhile, although inventory of PFY is not high now, the inventory accumulation is rapid, and plants may face inventory burden if status does not change. Besides, Mid-autumn Festival and National Day holiday will come soon. All in all, polyester filament plants are facing bigger pressure to curtail production based on the benefits and inventory factors. News on PFY plants cutting production are expected to appear successively in short term, especially those plants without PTA.
Keywords: