Home
>>
Textile News
>> August cotton yarn imports may decrease 15.65% m-o-m to 168.7kt
August cotton yarn imports may decrease 15.65% m-o-m to 168.7kt
2018-09-12 09:01:48 CCFGroup
1. Price gap change of imported cotton yarn at ordering time of major countries

Price gap of spot and forward imported Pakistani siro-spun carded 10S averaged at -852yuan/mt during Jun 1 to Jun 30, widening 261yuan/mt from -591yuan/mt in last cycle; that of Indian carded 32S for air-jet widened further and averaged at -860yuan/mt in Jun 25-Jul 24, down by 334yuan/mt from -526yuan/mt in last cycle; that of Vietnamese carded 32S for rapier averaged at about -825yuan/mt during Jul 5-Aug 4, narrowing 145yuan/mt from -970yuan/mt in last cycle. Price gaps of Indian spot and forward imported cotton yarn and Pakistani one enlarged further while that of Vietnamese one narrowed somewhat compared with last cycle.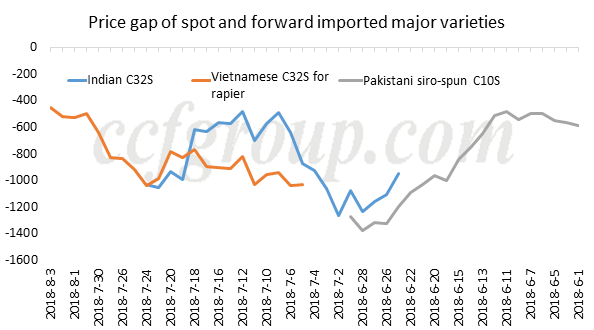 2. Traders' reflection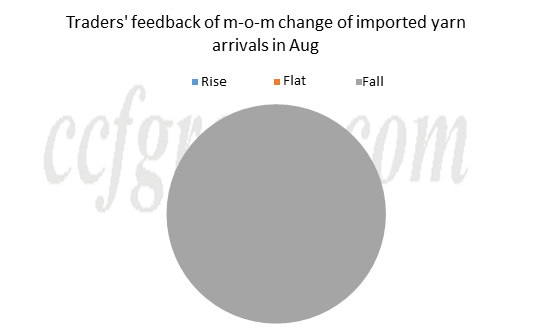 All traders surveyed opined that Aug arrivals would decrease by 20% on the month.

3. Aug arrivals of imported cotton yarn assessment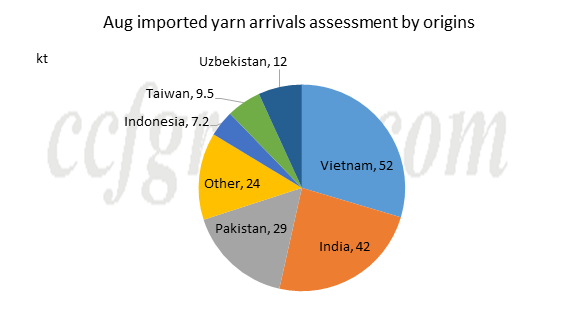 According to customs' statistics of major exporters, arrivals of imported yarn in Aug are assessed at 168.7kt, down by 15.65% on the month. Of the total, cotton yarn containing over 85% cotton reached about 158kt. The major origins are Vietnam (52kt), India (45kt), Pakistan (29kt), Indonesia (7.2kt), Uzbekistan (12kt), Taiwan (9.5kt) and other regions and countries (14kt).

4. Imported yarn inventory and supply and demand in Sep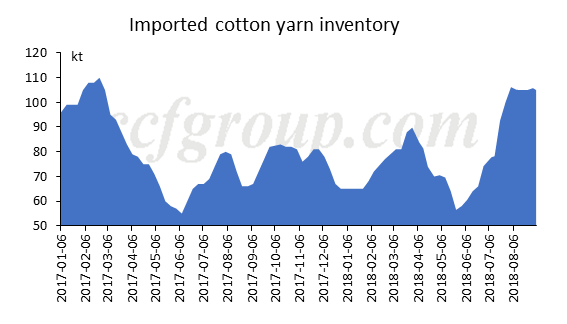 The inventory in ports stayed high, but Aug arrivals will decline largely. As downstream demand improves in Sep, the inventory is expected to drop and supply pressure will be eased.
Keywords: