Home
>>
Textile News
>> Price & O/R of polyester industry ascends, but downstream lacks orders
Price & O/R of polyester industry ascends, but downstream lacks orders
2018-10-12 09:31:27 CCFGroup
Price
Price of polyester cost side and product side both moves up driven by increasing crude oil price after the National Day holiday.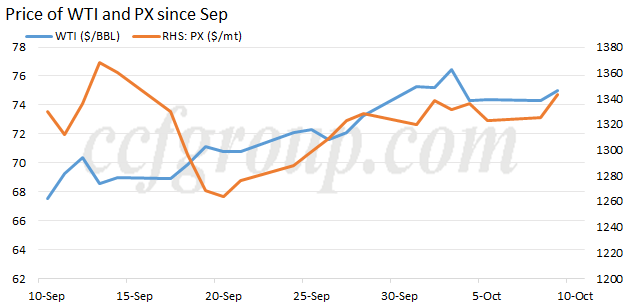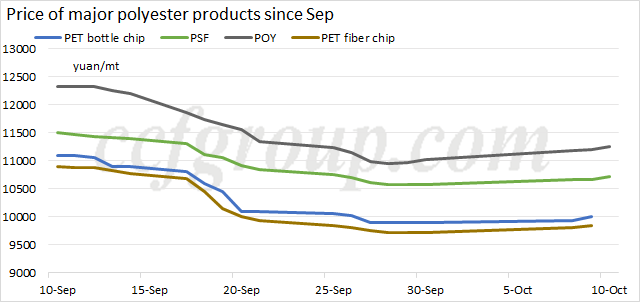 Cash flow
Cash flow of the whole polyester industrial chain improves after price rose, and PET bottle chip plants turn to be profitable instead of under losses.
Cash flow of major polyester products before and after National Day holiday (Unit: yuan/mt)
Pre-holiday
Post-holiday
Naphtha-PX spread
613
620
PX-PTA spread
646
637
MEG
545
1084
POY
630
808
FDY
290
403
DTY
235
165
PSF
365
443
PET fiber chip
140
253
PET bottle chip
-35
53
Sales and stocks
Inventory of PFY increases slower before the National Day holiday stimulated by the promotion, but accumulated again during Oct 1-3 on slack sales, and declined slightly during Oct 4-9 with moderate sales ratio.

Trading volume of PET bottle chip also improved after the National Day holiday, and orders from mainstream beverage factories increased.
Inventory change of polyester products before and after National Day holiday (Unit: day)
30-Sep
10-Oct
POY
15.1
14.3
FDY
19.4
17.7
DTY
19.7
19.2
PSF
10.6
7

Inventory burden still existed in PFY plants although sales were tolerable since the end of the National Day holiday, and the stocks were mainly in mainstream big plants. Large PFY plants had stronger acceptance toward inventory burden, while small-and-medium sized plants have suspended or cut production in a large range in Sep, so the stocks were not high now.

O/R
Operating rate of downstream weaving and twisting plants started recovering at the end of the National Day holiday, up to around 70-80% on Oct 8, which is still rising now, better than anticipation.

As for polyester sector, polymerization rate is expected to be around 85% in mid-Oct and may recover to around 88% by the end of Oct.
Run rate change of polyester industry before and after National Day holiday
30-Sep
10-Oct
Mid-Oct
Polymerization
78.80%
81.50%
85%
Twisting units in Zhejiang and Jiangsu
19.40%
80%
90%
Loom run rate Zhejiang and Jiangsu
50%
70-80%
Above 80%

However, the recovery of run rate on polyester and downstream market does not mean sound demand.

Downstream weaving units and printing and dyeing plants reflect that although the run rate restores and the equipment is under work given factors like labor issue, fixed cost and bank loans, sales of finished goods are unsmooth. Most downstream sectors are still waiting for the orders, and price of grey fabric still fails to move up. Most grey fabric plants are not profitable based on spot feedstock price, and the sales ratio is below 100%, so inventory speeds up to pile up.

Inventory on downstream market has been high after equipment greatly increased and the run rate has been continuously high in the last three quarters, and many weaving plants and fabric traders intend to sell when price lacks apparent upward trend.

In short run, operating rate of downstream market is recovering, and manufacturers are of great possibility to slowly raise price and sell with rising cost despite of inventory burden.

In medium term, downstream market is still the contradiction of the polyester industrial chain. Eyes are suggested to the sales in weaving and printing and dyeing sectors.
Keywords: