Where is peak season of rayon products gone?
2021-09-15 08:05:00 CCFGroup
Rayon fabric market has been dreary since Mar this year. There was temporary improvement in Jul, but has not been a favorable turn so far. There is no sign of traditional peak season this year and the market in the recent years is not strong in peak season, which is mainly attributed by several aspects.
The concentration of rayon yarn (including vortex-spun yarn) is rising due to higher concentration of VSF, so weaving mills are likely to stick together by lacking firm attitude in pricing with big quantity but scattered distribution.
Raw materials account for about 70% of rayon fabric production cost, so great fluctuation of feedstock price may cause widening losses of downstream companies who will gradually lose confidence towards rayon products. More weaving mills have been shut down this year and many of them have converted to polyester/rayon fabric.
The rising concentration of feedstock market will lead to big ups and downs of price. There is no sign of "golden March and silver Apr" or "golden Sep and silver Oct" in rayon fabric market this year, which is mainly caused by imbalance between supply and demand and oversupply. Polyester/rayon fabric saw tolerable sales this year and there is better stability versus rayon products, so many weaving mills in Shandong, Hebei, Shaanxi and Zhejiang have converted to polyester/rayon fabric, with sharp reduction of VSF consumption as the content of VSF has decreased from 100% to 10-50%. The percentage is usually T50/R50 or T90/R10 for polyester/rayon fabric, with a few T95/R5.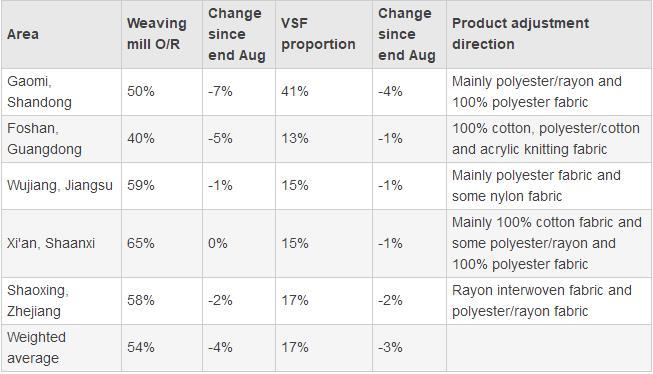 The sales tempo both at home and abroad has been disrupted amid the influence of COVID-19 pandemic and uncertainties in marine market, leading to mismatching of supply and demand this year. The price rises in slack season while falls in peak season.
End-users have almost built up enough stocks for autumn and winter and orders for next spring have not been placed, so weaving mills are under bigger pressure. Many of them in Shandong, Jiangsu and Guangdong shut down the facilities and some of them are closed for more than 20-day holiday.
Keywords: